Welcome to a land of mystery and magic. A world filled with the impossible yet perilously close to our own pasts.
For centuries, the hardworking gnomes have toiled under their obtuse ogre masters. Those in power grow stronger, while the weaker become dependent on the system draining them. Yet, despite their oppression, there is hope and an inexplicable vibrancy.
Young Foy wants to live an ordinary life. Drawn by the allure of freedom and stifled by injustice, Foy sneaks away from his school one night to perform magic with a wandering troop of minstrels.
Lucia never found the time to escape her mundane life. She works each day on the farm. It is unforgiving work, filling her with the desire for change. When her disgruntled father abandons her, Lucia falls into the arms of another malcontent destined to ruin her life.
Ceile, the elephant, enjoys the quiet, retired life. Her time in the circus, while fun, is over, and all she wants now is the one thing she can't have: the next-door farmer's watermelons. Once an elephant is on the move, she is almost impossible to stop. Ceile will do anything it takes to reach her prize, gnomes or not.
These short stories further develop the oppressive world of the popular Gnome Stories series by Ashley Parker Owens and show a different aspect of life that hauntingly reflects far too many instances of our own past. Filled with emotion guaranteed to tug at your heart, these stories are a must-read.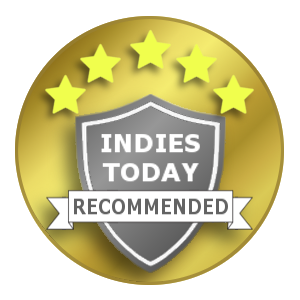 Indies Review by Nicky Flowers
These three stories of individuality and perseverance read like otherworldly folktales.
Ashley Parker Owens has created a fascinating, topsy-turvy world where humans are heartless ogres and intelligent society belongs to gardening gnomes. Within the pages of Trilogy of Shorts: Gnome Stories are the personal tales of two such ponderous gnomes and a gentle elephant whose circus days are little more than a fond memory. Ceile's story is the first in the book, and the most unsettling of the collection. She may be a gentle giant, but this rehomed elephant is no pushover. Separated from her family and friends, Ceile experiences not only loneliness, but endures harassment and other torments at the hands of antagonizing young gnomes. Imagining ways to torture and harm the menacing gnomes is only part of her emotional journey as she comes into her own strength and confidence. The subsequent stories follow Lucia and Foy, two gnomes with differing situations, but similar yearnings. Unsure of what the wider world might hold, both gnomes are determined to fight the stagnation plaguing their humdrum lives. Angst, fear and a spirit of adventure shape their unexpected paths.
Offbeat and melancholic, these three stories of individuality and perseverance read like otherworldly folktales. With her bold and inquisitive nature tempered by a restrictive upbringing, Lucia is a character audiences are sure to root for. More Brothers Grimm than E.B. White, Ashley Parker Owens takes childlike scenarios and infuses circumspect thematic elements, making for stories that can be appreciated and interpreted by a broad audience. Observant and pointed, this creative work of fantasy-realism does not shy away from the vexing issues that are common to grumbling gnomes, retired circus elephants, or observant humans. In fact, the matters of oppression and mindless submissiveness are repeatedly challenged as the three dynamic characters evolve into more thoughtful versions of themselves. A welcome change of pace, Trilogy of Shorts: Gnome Stories is a modern fairy-tale that tackles weighty topics with a skilled voice.